It is not uncommon that while working on an application, Microsoft Word or Excel, you have to visit a link embedded in the document. If you don't have settings in place, each time you click on a hyperlink, you'll be prompted in which browser you want to open it. These prompts can be annoying if you regularly use hyperlinks, in which case it's best to configure apps to open in your default browser. Today we are going to discuss how you can open hyperlinks in your default browser from one of the applications that use hyperlinks very often, Excel.
How to change the default browser when opening a hyperlink in Excel
This change can be done through two approaches to change the default browser – Microsoft Windows settings pages and your system's Control Panel. They are both very easy to follow.
1]Change Default Hyperlink Browser Using Windows Settings
Open Windows Settings on your computer using the keyboard shortcut Win + 'I'. Here, click on the Apps section
In the options pane to your left, click Default apps
Scroll down a bit and you will find a header named "Web Browser". Here you can select the browser to open by default, each time the command to visit a URL is passed
If you are unhappy with any of the browsers you have on your PC, you have the option of visiting the Microsoft Store and looking for another app.
The method for making this change in Windows 11 is slightly different, although you can also do it using Settings. Just open Settings > Apps > Default apps. Here, click Choose default by link type, which will open a separate settings page. Now scroll down to find HTTP and HTTPS, and select the browser in which you want to open Excel hyperlinks.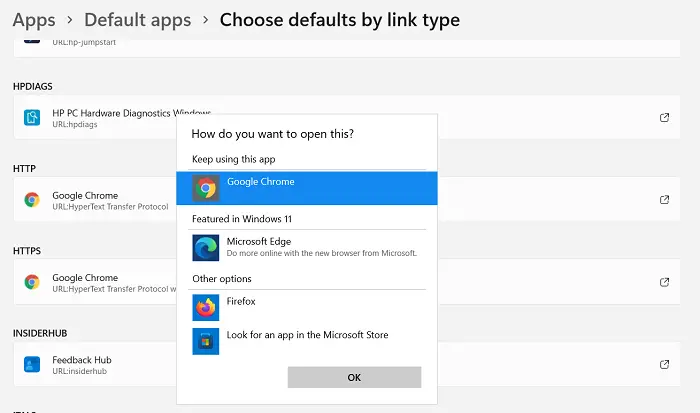 This is what the settings page looks like.
2]Change Default Hyperlink Browser Using Control Panel
An alternative approach to changing the default browser for your Excel hyperlinks is to use the Control Panel.
Open Control Panel by searching for it in your taskbar search menu
Click to show Control Panel as categories and click on the Programs category
Then select the Default Programs head
You will now see an option named Set your default programs. Click on it and you will be redirected to the same Windows settings page that we visited in the aforementioned process.
Repeat the third and fourth steps of the above process and exit the settings page to save these settings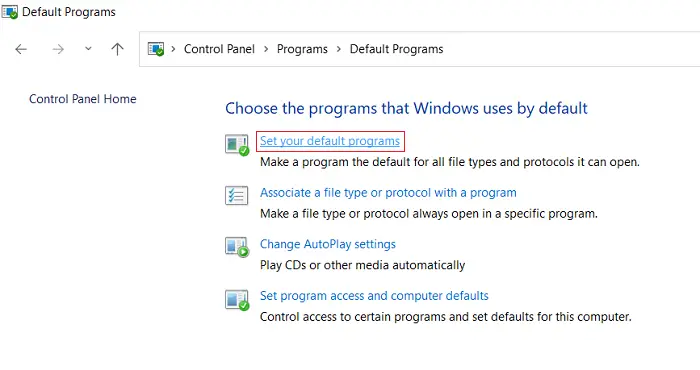 Do this and every link you open on it in an Excel workbook will open in your default browser.
What are the browser display options in Excel?
Browser display options can be very useful if you are someone who needs to do your work in Excel and then present it to people on the internet, preferably on a browser. Using browser display options, you can customize the appearance of your Excel work in a browser window.
There are three ways to display the contents of your Excel workbook in a browser window:
In Gallery View
In a spreadsheet view
In an Excel Web Access web part using the SharePoint website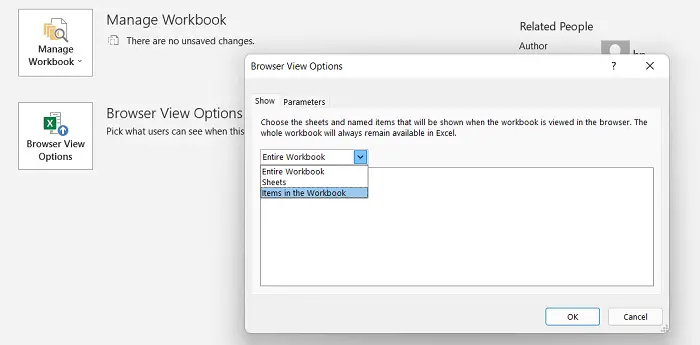 You don't have to install any add-on to use this feature. Just click on the File tab > Info > Scroll down and select Browser display options.
How to view web pages in Excel?
Microsoft Excel gives you the ability to view web pages in a workbook and remove data from them for your work. This too does not require any add-ons unless you need to explore websites of a particular type. Here is how you can import and connect to a website through Excel.
Open Excel, click on the Data tab and, in Get External Data, select From Web
This will open a box named New Web Query. Type the address in the box and click Go. Wait a moment and you will observe a window of the website you just requested to open
In order to extrapolate the data from this web source now, click Import and the Import Data dialog box will appear. Enter the data codes for the information you are looking to extract and click OK
This is how you can use Excel to your advantage and work on it like a pro. Taking help from web sources makes your work more informative. We hope this helps!